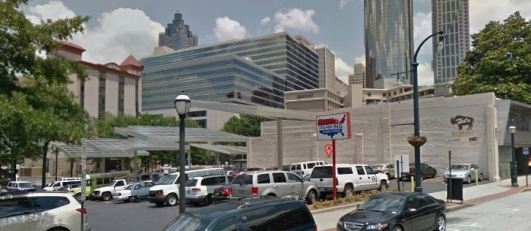 Atlanta businessman Ted Turner is not afraid to take on a new challenge. Fortunately for Atlanta, this native son had a two acre parking lot on Luckie Street in downtown Atlanta. Next door was Turner's business complex, comprised of Turner Enterprises, the Turner Foundation, a Ted's Montana Grill – and Mr. Turner's own Atlanta home.  Turner used the space to create one of the first solar parking lots in the country – and he may be on to a good idea.
There are many benefits to sun-powered parking lots, including the fact that they generate  energy to charge electric cars and help to shield parked cars from the brutal Atlanta sun.  Turner's plans for the solar parking lot also include using the solar power generated by it as the energy source for the building complex, including Ted's Montana Grill. So far, Turner's parking lot project has been as "green" as can be – he did not allow any trees to be cut down during construction. You can see the parking lot, named the "Luckie Street Solar Project," at 157 Luckie Street NW, Atlanta.
A Contribution from the NFL?
When you think of organizations with an interest in the environment, the NFL probably isn't the first one that comes to mind. But the NFL's  Washington Redskins, recently covered an astonishing 841 parking spaces at the FedEx Field in Maryland with solar units. The stadium now receives 20% of its game-day energy needs from solar sources. Even more impressive, the stadium can meet all of its energy needs from solar sources on non-game days!  And the NFL is not alone.  Rutgers University of New Jersey is spending an estimated $40.8 million to develop 32 acres of solar lots on its Livingston, NJ campus. Rutgers says it expects to save around $28 million in energy costs over two decades.
Solar Carports
Unless you're a millionaire, you probably can't embark on your own solar parking lot building project. But not all of the solar-centric projects taking place today are on the scale of a commercial parking lot. Some groups are thinking smaller, in the form of individual solar carports. It is not hard to image the positive impact to the environment should solar carports become popular nationwide. That could be another nationwide change brought to us by the Atlanta businessman who created CNN.