Throughout greater Atlanta, when people think of paving services and materials for their businesses, churches, retail centers, malls, apartments, distribution centers, & other construction projects, they think of Dykes.
WE ARE THE greater atlanta LEADER
IN Paving and Construction
Since 1968, our Atlanta-based, family-owned company has grown with Atlanta, making it our priority to deliver the best possible paving processes, services and materials to general contractors, developers, commercial entities, engineers, as well as property managers, owners and maintenance staff. 
We pride ourselves on being a large company that runs like a small business. When you call, you'll talk to a decision maker who understands your challenges and can help you address them. In short, we stand by our products and our work, 100%. Period.
Large scale commercial entities, general contractors, developers and engineers rely on us for new construction projects – especially those requiring LEED certification.
Property managers and maintenance staff count on our quality rehabilitation services to help them maintain and raise the value of their properties.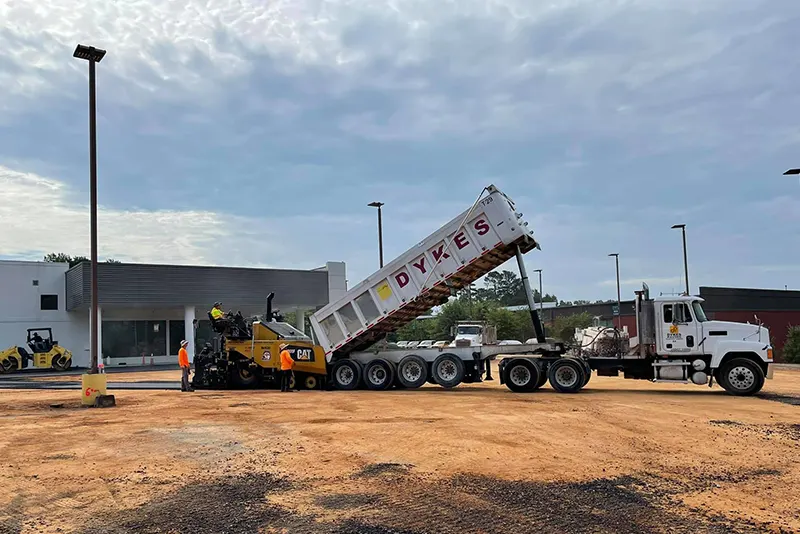 Founded in 1968, Dykes Paving & Construction includes a paving, materials, and recycling division becoming one of the most highly-regarded companies in the asphalt construction & recycling business.
Jim Dykes graduated from Georgia State University and started Dykes Paving and Construction.
Simultaneously, he begins experimenting with recycled asphalt on a small scale, using hot plates, cook pots and eventually, microwave ovens as a makeshift test lab.
our HISTORY OF innovation and recycling began OVER 50 YEARS AGO
The popular Perma Flex® hot mix asphalt product was invented by Dykes in 1970 to work with existing asphalt to fill cracks and prevent future cracking.
Our RTR™ product is the only cold mix product in production today made from 100% recycled content.
When Atlanta Fulton County stadium was torn down after the 1996 Olympic Games, Dykes Paving recycled 100% of the concrete, graded the site and paved the entire area.
Dykes Paving is one of the  largest producers of recycled aggregate in the nation. We've been "green" long before sustainable building and LEED certification became priorities.
Paved across metro atlanta
Our professional memberships