If you're looking for innovation on your construction projects, look no further than Dykes Paving & Construction Company, Inc.
Dykes Paving installs brand new Astec Asphalt Silos & Control Tower is updated.  Aggregate becomes GA DOT approved and is added to the Qualified Products List (QPL)
Dykes Paving installs a brand new Astec Asphalt Silos and updated Control Tower
4th largest producer of aggregates
Dykes Materials was listed as the 4th largest producers of recycled aggregates in the nation.
Purchased 4th Rock Crusher
Purchased a 4th rock crusher to recycle approximately 400,000 tons of old concrete runways at the Atlanta Airport. The old runways are used as a recycled aggregate under the new runways currently in use.
Mobilized to West Marietta Street in downtown Atlanta and began to crush approximately 1.8 million tons of demolition material abandoned onsite by another contractor.
first to successfully recycle asphalt roofing shingles into hot mix asphalt.
Dykes Paving becomes Georgia's first contractor to successfully recycle asphalt roofing shingles into hot mix asphalt. We developed hot mix designs that contain 50% roofing shingles. GADOT will only allow hot mix asphalt to contain up to 7% roofing shingles. Asphalt shingles contain 20% liquid asphalt, the same ingredient used in hot mix asphalt production. Roofing shingles were currently the second largest scrap placed in C&D landfills, but this technology could change that.
Purchases larger rock crusher
Purchased a larger rock crusher to process old asphalt, waste and demolition concrete.
1. Modified a standard rock crusher to process waste concrete from ready mix concrete plants. The concrete was crushed into a sized material and used in place of granite stone on construction projects.
2. Contracted to recycle all granite debris generated from the City of Atlanta's tunnel project for combined sewer and storm water retention. This tunnel is 10 miles long and is designed to prevent raw sewage discharges into the Chattahoochee River. The tunnel, 'muck' as it is called, is actually granite. To date, over 2.5 million tons of granite, basically everything generated by the project, has been processed into 100% recycled aggregate. With the closing of Bellwood Quarry, this is now the only supply of granite stone in downtown Atlanta. Dykes Paving successfully recycled over 2.2 million tons of granite material generated by the City of Atlanta's CSO tunnel project.
develops new process for recycled asphalt
Dykes develops a new process to increase the concentration of recycled asphalt in hot mix designs. At this time only about 5% to 30% recycled asphalt was used causing an overabundance of used asphalt in area landfills. In an effort to divert the materials away from landfills, Dykes developed the first recycled asphalt process. The process began by grinding and placing the reclaimed material adjacent to the cut out section. AdditIonal dirt was removed to a prescribed depth and the blended rock was placed back into the cut. Hot recycled asphalt was then installed over top. It eliminates approximately 50% of material by volume that would otherwise have to be hauled off site and decreases the amount of new material required for resurfacing.
Dykes develops Perma Flex® as a crack retarding paving system, allowing new asphalt to be installed over badly cracked pavement, eliminating disposal costs and waste generated by traditional repaving methods. The Perma Flex® paving system is a nationally recognized product that requires 50% less hot mix asphalt compared to other paving methods.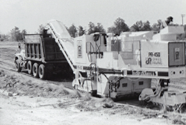 2. Purchased an asphalt milling machine to remove existing asphalt from highways and parking lots. The milled material was recycled into new hot mix asphalt.
Purchases New drum mix asphalt plant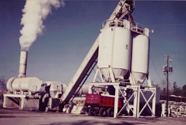 Purchased a new drum mix asphalt plant, modified the drum to re-heat old asphalt and became the first paving contractor in Georgia to successfully recycle hot mix asphalt.
Typical asphalt base installation sitework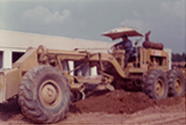 Dykes Paving and Construction begins to grow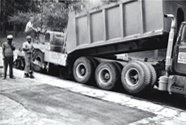 DYkes Paving produces asphalt mix to be sold
Dykes Paving produces almost 200,000 tons of Asphalt Mix sold to various customers
DYkes Paving & Atlanta Paving form a new partnership
Dykes Paving & Construction Company, Inc. is acquired by Atlanta Paving & Concrete Construction, Inc. creating a new partnership to better serve our customers
Mobilized to the old Atlantic Steel site which was considered a mid town eye sore for years in Atlanta. Proceeded to process over 2.1 million tons of concrete and shot rock. All material was recycled and used on site in lieu of granite stone. This property is now known as Atlantic Station.
develops new generation of recycled asphalt products
Dykes Paving develops a new generation of recycled asphalt products, combining recycled asphalt, shredded roofing shingles and recycled oil. RTR™ Econo Pave is a cold mix asphalt with 100% recycled content. RTR™ Diamond Patch is a 50% recycled asphalt hot mix. RTR™ cold mix asphalt is currently used on roads in North and Middle Georgia. It costs 60% less than hot mix asphalt and does not require an asphalt plant in the counties that use it.
Mobilized to Glenwood Avenue and I-20 to crush over 2.5 million tons of concrete abandoned by another contractor. All material generated from this site was reused on new construction sites throughout the downtown market. Also mobilized to Bellwood Quarry and began recycling concrete waste generated by construction activities in Atlanta.
Acquires additional crusher
Acquired an additional rock crusher, this time a mobile unit that was used to crush Kraft Foods in Decatur. Crushed over 200,000 tons of concrete from the old Kraft Foods warehouse that was reused on-site for the development of two large construction projects.
develops cold mixed 100% asphalt base
Dykes Paving begins experimenting with asphalt rejuvenators and begins using them on special jobs. This leads to the development of a cold mixed 100% recycled asphalt base that uses no heat and becomes the framework for Dykes Paving's revolutionary RTR™ cold mix.
develops warm mix 100% asphalt
Dykes Paving develops the first 100% recycled warm mix asphalt by combining hot liquid asphalt with cold water to create an asphalt foam used to coat the aggregate. This process is used in Europe and U.S. to produce warm mix asphalt. Today, this type of warm mix asphalt is a hot topic, as it could dramatically counter the adverse effects of asphalt fumes on the environment. Dykes Paving has placed hundreds of thousands of tons of warm mix asphalt in the Atlanta area.
DYKES BECOMES FEDERAL AND GEORGIA LEADER IN RECYCLED ASPHALT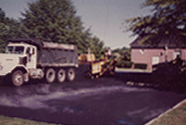 1. Dykes demonstrates 50% recycled content hot mix asphalt to Federal Highway Administrators, Georgia DOT, competitors, county and city officials. Donates recycled asphalt to the State of Georgia and Dekalb County for two test projects. As a result, the GA DOT determines that the structural integrity of new roadways are not compromised by recycled asphalt and state wide recycling for Georgia's roadways began – today, Georgia has some of the best roads in the nation, all built with recycled asphalt!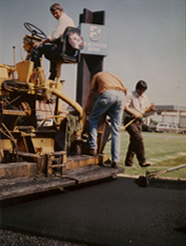 2. Dykes becomes the voice of recycled asphalt in Georgia, helping paving contractors and state officials throughout the state. Dykes Paving also participates in the first asphalt recycled projects in MS, AL, NC and SC, helping each state eager to learn about this exciting, new process.
Purchases first rock crusher
Dykes purchases its first rock crusher, modifying it to process broken asphalt.
Asphalt Overlay before Perma flex®
T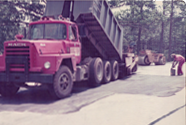 ypical asphalt overlay prior to the development of the Perma Flex® asphalt overlay system.
New Construction/expansion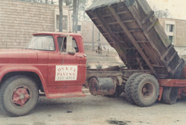 Dykes secures more and more jobs around Atlanta. New construction translates into expansion and more equipment
Jim Dykes establishes Dykes Paving and Construction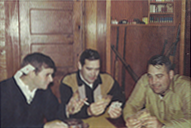 Jim Dykes graduates from Georgia State University and starts Dykes Paving and Construction. Simultaneously, he begins experimenting with recycled asphalt on a small scale, using hot plates, cook pots and eventually, microwave ovens as a makeshift test lab.