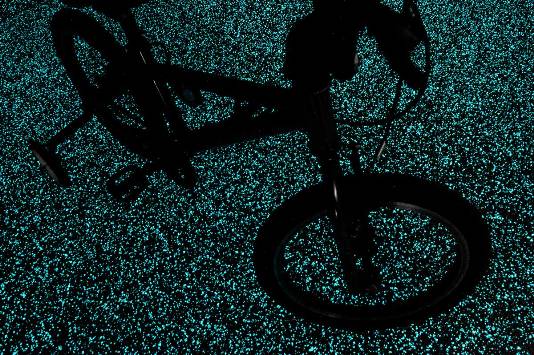 Imagine driving down a well-illuminated road at night without the assistance of conventional streetlights. The road seems to glow in the dark on its own, making night time driving clearer and safer. This is possible with a new technology called 'Starpath', which its developers say offers a cost-effective and environmentally friendly solution to night time driving.
Starpath is a spray-on, water-resistant coating that absorbs light during the day and releases it at night. It works as a solar panel, allowing the road to glow at an adequate intensity for drivers. The Starpath product also contains an anti-slip material, which can help vehicles avoid collisions.
A Quick Roadway Fix?
One of the benefits of this technology is how rapidly it can be applied. According to Pro-Teq, a UK-based provider of spray-on surfacing materials that developed the product, Starpath can be applied to an area of about 1,500 square feet in just 30 minutes. The surface is ready to use four hours later. Pro-Teq is a manufacturer of playground surfaces, so not surprisingly, they offer the spray in eleven colors.  Different colors could be used to create bike or bus lanes or delineate parking areas with different colors.
Starpath may be a very attractive option for the environment It could potentially eliminate thousands of conventional streetlamps along highways or in neighborhoods. Ideally, the savings would outweigh the initial investment of implementing the product.
Does It Actually Work?
There are some concerns that this technology would not be nearly as effective in the winter, when there is not only less sunlight, but snow blocking the surface from receiving adequate light. In this case, there could be a dangerous scenario if traditional streetlights had been eliminated. But Starpath has had a successful trial along pathways in a park in Cambridge, UK.  With its success, the city council is considering using it on other pathways in the city.  Whether our future roads are all coated in glowing, colorful Starpath technology remains to be seen, but the idea of a roadway that is both sustainable and safe at night is appealing to both the public and local governments — and almost as attractive as the idea of glowing, rainbow roadways.
Image: www.pro-teqsurfacing.com/home.html