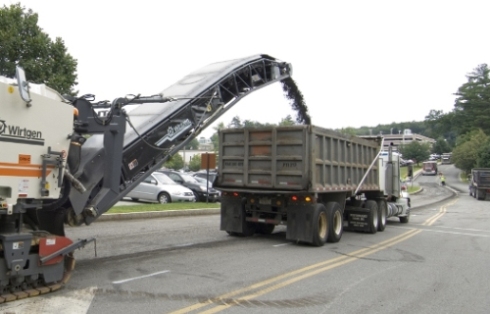 Since we first started our business back in 1968, Dyke's Paving has proudly served the general contractors, developers, engineers and large commercial entities of the Atlanta, Georgia, community with our quality paving services for new construction sites and pavement installations. We have also served the needs of maintenance staff and property managers with our top-quality rehab paving services by offering the very best in asphalt reconstruction (asphalt resurfacing, milling, etc) and repair (overlay, patching, etc.)
Always innovating our methods to best serve you, Dykes is a key source for recycled construction products such as asphalt, stone and aggregate that we use in environmentally friendly, green programs like LEED. When we combine our innovative materials (asphalts and recycled aggregate) with our different methods of recycling processes, we are able to reduce waste during a project by as much as 100 percent!
Dyke's Paving is proud to provide a full range of options for paving solutions to commercial enterprises, contractors, developers, engineers and project managers, and have become known across the Atlanta area as one of the best quality paving companies around. We have what you need when you need it! One of our specialties is asphalt milling, which is the process of milling down existing asphalt to a specific depth before resurfacing the area. We're proud to offer this procedure for many reasons, but one of the most striking things about asphalt milling is how environmentally friendly it can be. By simply using existing asphalt, there is less need to go through the standard crushing process necessary to produce road base.
There are many benefits to using the process of asphalt milling for your next project and we're proud to be experts in the field. Some of things you can look for when you have a milling project done by us are:
Savings – Milling gives you an extraordinary savings advantage when it is used to completely remove existing asphalt to the sub grade.
Standard Practice – Milled asphalt is used as road base for all the major cities, CDOT, and counties in the area. It is accepted in many more locations than broken asphalt.
No Extra Disposal Charges – Unless the milled asphalt is contaminated with petro mat or dirt, asphalt plants will accept it for no extra dumping charges. If you aren't planning on using the milled asphalt for reconstruction or as a temporary surface, then getting rid of it is inexpensive and easy. This gives you a huge savings advantage.
No "Wicking Effect" – Many times, if there is ground moisture under a project site, heavy machinery passing over the area will "wick up" that moisture, but since asphalt milling happens in one pass, there is less potential for this destructive effect to take place.
Speed – Asphalt milling is a much faster method than other, more conventional, asphalt removal methods. Using the process of asphalt milling can cut site preparation time up to 40 percent.
There are so many advantages to using the asphalt milling method and at Dyke's Paving we are experts in providing the top-quality service your project deserves. We are capable of giving you the best possible solution to your paving project – regardless of its size. Trust Atlanta's top-quality asphalt milling, paving and resurfacing company, Dyke's Paving. You'll be glad your next project is in our hands.